Having just returned from a vacation in Turkey, I have decided to do a series of posts regarding my unvegan experiences abroad. Today's review is about "pide" (pronounced pee-day), also called Turkish Pizza.
Eating something called Turkish Pizza really seems like a misnomer to me. I'm not sure if it is Turkey's take on pizza, or perhaps they found that calling it Turkish Pizza makes it more approachable for visitors who may not have ever heard of "pide". Either way, my first pide looked nothing at all like pizza. I got it at the Karadeniz Aile Pide & Kebap Sofrasi in the Sultanahmet district of Istanbul. It was called the pide with spicy meat pieces and the waiter told me the meat was beef. When it came, it looked more like a calzone than a pizza, and true to it's word, it was full of meat pieces. The pieces, however, were not spicy, as I think they meant to write "spiced meat pieces." Regardless, it was delicious and made me want more.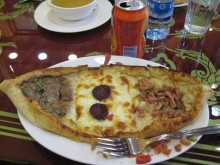 My next Pide came in the Taksim area of Istanbul. Looking to add more variety to my pide, I went with the mix pide. Sadly, the waiter couldn't understand English too well, so I took a vegetable chance. My chance only partly paid off. I got the variety I wanted, but at a cost. One third of my pide was covered with tiny little tomatoes and red and green peppers. After ten minutes of furious veggie-picking, I managed to clear off as many of the little horrors as I could. Fortunately, the mix pide sanctioned off each section so that only part of it was tainted. The other two sections were mostly clean. One had some sort of a minced mystery meat while the other had cheese and Turkey's version of pepperoni (which most certainly was not made of pork). In the end, the mix pide was good, but not worth the effort that went into devegetating it.
My last pide was also at a restaurant in Sultanahmet. I have to give this restaurant props because my friends were able to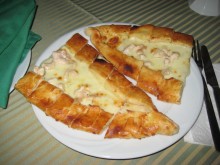 convince the place to give me a free beer, but I am sad to say that I cannot recall the name of the restaurant. Suffice to say, if you go to a restaurant in Sultanahmet and tell them that another restaurant promised you a free beer, you have a good chance of getting it. I settled down and found a pide offering I had never seen before, with chicken and cheese! But also with mushrooms…ewww. Being back in tourist-land, I asked for it without mushrooms and hoped that the poor Turkish man understood me. As luck would have it, he had managed to filter through my poor English and ensured that my pide came mushroom-free. I delightfully ate my last pide and washed it down with my free beer.
I found the pide to be a great dish that one should not leave Turkey without trying at least once. It's quite dissimilar to an actual pizza and can be easily adapted to the needs of an unvegan.