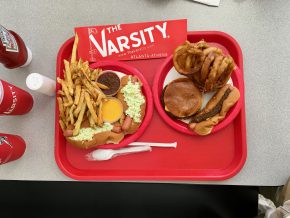 Every city has its share of iconic places to eat. In Atlanta, one of those places goes by the name of The Varsity and has been around since 1928. They still do the paper hat thing and the people taking orders are famous for asking "What'll Ya Have?" As far as the food goes, it's basically what you would expect from 1928: hot dogs, burgers, fries and onion rings.
But these weren't just any burgers and dogs, they come in the chili-cheese variety and the slaw variety. I went with a chili-cheese dog, chili-cheese burger and onion rings. I made sure that the burger and dog wouldn't include any veggies and then added a Frosted orange because it just felt like the right thing to do.
The result was a greasy, amazing throwback meal. The hot dog was classic and snappy, while the cheese was just a straight up American slice and the chili was super beefy with no wasteful beans (and really very little texture to speak of). To some that may not sound like a good thing, but it's reminiscent of the coney dog spots around Detroit that I grew up going to. It couldn't compete with the coney dogs, but I may be a bit biased.
Those onion rings, by the way, were pretty glorious. They were fried to the oblivion that renders them barely onion-y and that batter was delicious. The only trouble was that I couldn't find anything to dip them in. Ketchup didn't really do them justice, but I couldn't find the ranch that probably would have sealed the deal. Regardless, they were a force to be reckoned with.
The Varsity is not one of those places that will blow you away with unique and surprising flavors, and if you're not from Atlanta, it might be lacking in the bonus seasoning that nostalgia brings. Nonetheless, I ate it all up and enjoyed every moment.