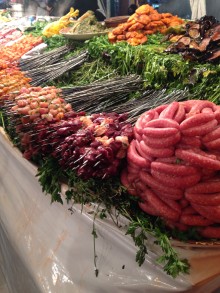 At night in the Djemaa El Fna (Big Square) in Marrakech's Medina, the street food comes to life. Of course, the place is still full of street performers and snake charmers, but the food looks oh so much better. The only trouble is the insane amount of people working in the stalls that badger you about as hard as possible to stop by their stall. My favorite line, though, was "same shit, different stall." And he was right, it all looked the same, so I stopped by one to see what they had.
Because I had just eaten a regular meal, I just ordered a set of brochettes. Now for those of you that don't know what brochettes are, you are obviously not French. That's because brochettes are just the French word for kebabs. And here, the brochettes come in many shapes and colors. In fact there are many more options than just brochettes, but my stomach can only hold so much.
As for me, I just ordered the beef variety. After a short wait, they were ready to eat on their metal skewers. Amazingly, I found these skewers to taste eerily similar to the skewers I made my regular midnight snack in China. I suppose this shouldn't come as a surprise, as they are heavily influenced by their Muslim background, but China is a long way away from Morocco. Fortunately, I loved this stuff in China and I loved it just as much in Morocco. Each piece of meat had great flavor and each skewer had a nice chunk of fat to keep the whole thing moist.
The nighttime street food is not to be missed in Marrakech. In fact, if you don't stop by for a brochette or at least a merguez sausage you really haven't seen the place.