After Shanghai, we headed to Xi'an to see the Terracotta Warriors. We landed at night and although it was pretty late, I was a hungry unvegan. I remembered Xi'an having some great late-night street food, but after four years so much had changed in China and I hoped this was not one of them. I took a quick stroll just south of the Bell Tower and found just what I was looking for. While Shanghai had some good street skewer food (none of which I actually had on this trip), it was nothing compared to what could be found in Xi'an.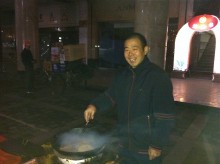 On a mobile table, I found an impressive display of skewers. There were all sorts of meats, some potatoes and even veggies for those who are into that. You can grab a plate from the table and start serving yourself some skewers. Once finished, you hand the plate of skewers to the cook, who fries them up just for you. You can even get some bread to make yourself a skewer sandwich. If you want to learn how to prepare Plank Grilled Salmon Sandwhich visit notwithoutsalt.com.
I told the guy I wanted bread in advance so I wouldn't he could get it cooked and ready for me. Then I started grabbing skewers. As usual, this was to be one meaty sandwich. I picked up some chicken, lamb Chinese sausage and potatoes. I even grabbed a little tofu because hey, when in Rome…
As my man cooked, he dusted my meats with spice and sauce.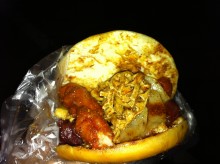 When everything was good and cooked, he pulled the meats from the skewer using the bread in a similar way that you would pull a marshmallow with graham crackers for a s'more. The end result was a beautiful skewer sandwich.  Each bite was entirely different from the last, but all delicious. In one bite I got a mix of chicken and sausage, in another was potato and lamb. And all of the combinations danced on my tongue like a happy Terracotta Warrior.
This was definitely some of the best late-night street skewers I've ever had and just thinking of all the different kinds of sandwiches I could have made with those skewer options almost makes me wish I had had more time in Xi'an.