To many people, it's surprising to find out that China isn't a country full of just one ethnicity. In fact, China is home to 55 different ethnic minorities and actually has a significant Muslim population. A big part of that population is the Uyghur (pronounced wee-gur) people, who mainly reside in Xinjiang, a western province that borders Central Asian countries like Kazakhstan, Kygyzstan and Afghanistan. But Chinese Muslims can be found all over the country and in major cities like Xi'an in Shaanxi Province. While the Terracotta Warriors are surely the biggest draw to Xi'an, the city also has China's biggest mosque, which looks like any other temple in China except for the Arabic writing. Xi'an also boasts some delicious Muslim food.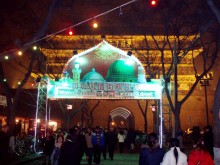 The Beiyuanmen Islamic Street is where you can find delicious skewers, another version of the Chinese Hamburger and the closest thing you can find to pita in China. A few years ago, a sign hung over the street to tell people they were entering the Islamic Street, but for some reason that sign is no more. Little else about the street has changed and it can still be found just west and a little north of the Bell Tower.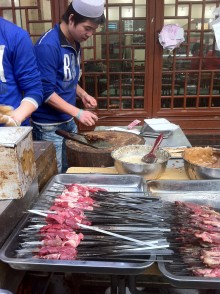 Differing from the Uyghurs (which look more like they are from Kazakhstan than China), the Muslims in Xi'an are predominantly of the Hui minority. If it weren't for the skull caps, they would blend right in with the majority Han people. The street is lined with restaurants and skewers being sold on the street and if you are worried about sanitary eating in China, you can rest assured that you will eat safely here, since the food is Halal. The Chinese Hamburger here is ground meat cooked between two pieces of bread, which despite being as the same basic components as a normal hamburger, tastes completely different.
Although the Chinese Hamburger is pretty good, the skewers are where it's at for me. They are cooked like a New York Pizza, in that when you order them they have already been cooked and just need to be warmed up on the grill. During the re-heating, the skewers get dusted with spices to add some flavor. Typically the spices are pretty hot, but you can always get them more mild. They spices are quite different from your normal Chinese food and almost make you feel like you are eating in the Middle East. As with most Muslim meat, lamb is the easiest to find here, but they also have chicken and beef. Just don't go looking for pork, because that just ain't Halal.