Pasadena isn't exactly known for being at the forefront of the food world. Often a restaurant finds success elsewhere in LA and decides Pasadena is a good outpost for a sequel. You could say that is the case with Ramen Tatsunoya, which first found success in Japan, then as a popup in Torrance, but Pasadena was officially chosen as it's first location for a long-term foray into the United States. The incessant hour-long line out the door proves that this wasn't a bad idea.
Ramen Tatsunoya is all about broth and chashu – the fatty pork that is a mainstay of ramen bowls. There are only three ramen broths to choose from, but each one has an extra chashu variation. On top of that, Tatsunoya even offers a variation on sushi with chashu instead of seafood. As for that broth, Tatsunoya has a bit of a gimmick. Instead of using old-fashioned pig bones to make its broth, they use the skull. Supposedly it brings out a silky smooth flavor that I was eager to try out.
I ordered the Koku Tonkotsu, which has a broth that is supposedly richer, spicier and more garlicky than the other Tonkotsu called Jun. It comes with the chashu, green onions, a dollop of spicy sauce and those weird ramen mushrooms. Notably missing is an egg, which can be procured for an extra charge. I didn't order one, but my wife did and was happy with her choice.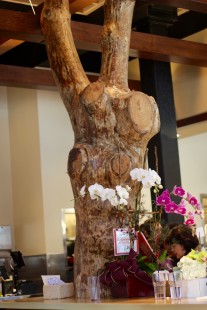 I cannot speak for the Jun, but while the spice dollop only had the most subtle of impacts on the ramen, the richer and more garlicky description had to have been spot-on. But it wasn't rich for the sake of being rich, this was literally the best ramen broth I had ever eaten. There was a complexity to it that cannot be explained in words and can only be understood by downing a bowl yourself. The noodles were good, but nothing special. The chashu melted in my mouth, but other good local ramen spots can do that. That broth, though, was something truly special and I have to thank the pig heads for it.
To cool down our oral senses, we did end up splitting the Coconut Flan for dessert. It had some crushed peanuts on top and a shot of Matcha Green Tea to pour over. It was a solid way to close out the meal and did some good in balancing out the potentially overwhelming richness of a huge bowl of ramen.
I will return to Ramen Tatsunoya, and not because it is the best ramen in Pasadena, but because it is the best ramen I have ever had. By the way, this is coming from a guy that once lived in Japan.