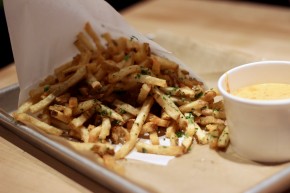 Once upon a time a place named Hopdoddy burst onto the scene in Texas. No one quite seems to understand the name, but they seem to like it because it has blazed a westward path of burgers, beers and fries ever since. Finally, it arrived in Playa Vista and I accompanied my buddy to try it out.
He insisted we grab some of their Green Chili Queso Fries to start things off and I had no reason to disagree with that. Plus, through a mix up we also ended up with a tub of Chile Con Queso to add some meat to the mix. The fries were pretty wonderful without the either of the queso dips, but with them they were obviously exponentially better. Both quesos were packed with great flavor and at the end of the day they seemed to actually taste best mixed together for optimal meat and green chili flavor.
As for my burger, I went with the Buffalo Bill. Now, in some places the term "buffalo" in regards to food can mean the meat of the mighty bison, while in some it is the kind of spicy sauce from Buffalo, New York. In Hopdoddy's case it's both, as the burger is a bison patty, topped with bacon, blue-jack cheese, Frank's Hot Sauce and something called Sassy Sauce (a mix of mayo, horseradish and mustard). The burgers all come with lettuce, tomato and onion, but I ordered mine without and asked for the bison to be medium rare.
Now, I should note that it is not easy to cook bison well. It's a leaner meat, so more difficult to cook in a juicy way and unfortunately Hopdoddy has not yet learned how to do this. The burger was a bit overcooked, but they did figure out how to juice it up (perhaps a touch of butter?). Yet, the toppings were pretty fantastic. The sliced version of blue cheese was an awesome touch, while the bacon was perfectly crisp. Even the sassy sauce, with its mustard that I normally disdain, worked.
If only the meat had been done right, it would have been pretty close to a burger masterpiece. Without that, though, it was just another flawed attempt to do buffalo right.