If history winds up the way I fully expect it to, the city of Buffalo, New York will only be remembered for one thing: Buffalo Wings. This isn't exactly a bad thing for a city which would love to forget about the four consecutive Super Bowl losses, the freezing winters and the fact that they aren't quite at Niagara Falls. And since, Buffalo Wings are one of the greatest culinary creations in history, it's not exactly a bad thing to be remembered by.
In honor of Buffalo Wings, the Black Swan sauce company sent me out a free jar of their Wing Commander sauce to test out on some wings. Just as in any good experiment, I wanted to have a "control," so I chose my all-time favorite buffalo sauce, Wild, from Buffalo Wild Wings.
Apparently Wing Commander is no longer just an awesome video game like 카지노 검증 or a terrible Freddie Prinze Jr. movie. To quote the Black Swan website, "Wing Commander contains no dairy, buttery flavorings, eggs or artificial ingredients, yet its delicious taste is unparalleled in depth and excitement."
On the other end of ring, we have Wild, which is no longer just a way to describe "things." The Buffalo Wild Wings website takes a more simple approach in describing this sauce; "Big flavor, blisterin' heat."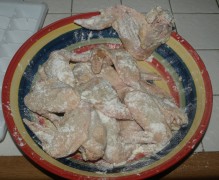 But these sauces would have to wait until I prepared the wings themselves. Not content to just eat the wing bits that restaurants serve up, I bought entire wings, which contain the drumstick, the wing part with two bones and the wing tip itself. I find it strange that I've never been a restaurant that serves up the entire wing. It's like cutting a guy's arm off from the elbow down and claiming you cut off the entire arm. You are wrong, because he still has an arm, just in stump form. The same goes for wings. I don't want any stumpy chicken running around.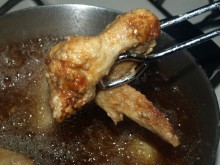 Once these were defrosted, I breaded each wing. This is a much simpler process than some might believe and only requires dipping in flour. Since the wings are already moist, the flour sticks to the wings like mistresses to Tiger Woods (current event joke!). I brought a big pot of Canola oil to a boil and started dropping wings in. Depending on the size of the wing, it took between 8 and 12 minutes to cook each through and ensure minimal salmonella.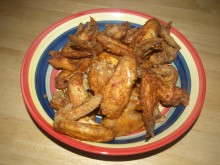 Finally, with the wings thoroughly fried, it was time to toss them in sauce and put them on display for my adoring unvegan fans. As I don't support the consumption of vegetables, I only provided bleu cheese. Guests were allowed to bring carrots or celery, but I would have nothing to do with them.
Upon eating, I found that the Wing Commander sauce was a little too vinegary for my taste and my friend, Aaron echoed my sentiment in proclaiming, "It's no Admiral Delicious or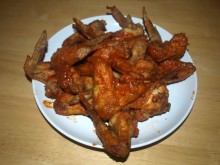 Sergeant Scrumptious." The Wild sauce, however, won over everyone pretty quickly. John was ready to make the drive up to Burbank to visit the Buffalo Wild Wings restaurant.
A lot of people are fans of vinegar in Buffalo Wings, which is good, because vinegar is necessary in every wing sauce. Unfortunately, Wing Commander took the vinegar to the extreme, which overwhelmed the rest of the flavor. It was a good try, Black Swan, but it looks like the control won out in this test.