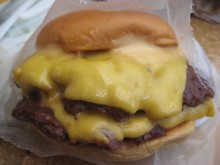 Everyone one who knows anything knows about Shake Shack. Or at least they should. But perhaps they don't know the man behind the meat: Pat LaFrieda, who has made the world of meat immeasurably better and is finally getting his due as an Unvegan Hero.
The Pat LaFrieda I refer to here is, of course, Pat LaFrieda, Jr. As the third generation purveyor of of delicious meats, LaFrieda stocks up delicious New York restaurants with dry-aged meats that are mind-blowing. If you need proof, go to Shake Shack. Now. I don't care where you live. Of course, you could also order some of their meaty delights online.
And, perhaps more importantly, LaFrieda has been in the new recently because he is releasing a new cookbook in May, 2014. Called Meat: Everything There Is To Know, it sounds like the perfect book for any unvegan in the world.
So, for kicking burgers up to the next level, dry-aging beef to delicious oblivion and finally writing about it, Pat LaFrieda, Jr., you are a true Unvegan Hero.