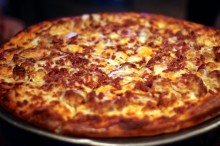 Down in little East Aurora is a bar called Leo's Pizzeria. Yes, I said bar. Yes, I said pizzeria. Because Leo's is one of those rare breeds of drinkeries that just can't be contained by one title. In fact, it would even be fair to call Leo's a sub shop or a number of other things on the menu. But pizzeria fits, and I was looking forward to finding out just how good the pizza could be.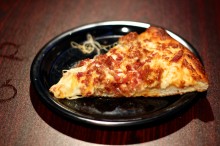 After having a couple beers, my buddy and I decided to split their Chicken Bacon Ranch. We got a large, asked for the chicken to be spicy and looked forward to the results. The results were certainly better than I expected. Each ingredient was evenly dispersed throughout the pizza and while the chicken wasn't terribly spicy, it gave the chicken more flavor than it would have had otherwise. The dough wasn't exactly thin, but for some reason it wasn't overly bready. Perhaps this was because each slice had so much flavor that the thicker dough actually served a purpose aside from just holding up flavors.
While Leo's Pizzeria was the first pizza I had tried in the whole of Western New York, it's actually set a pretty high bar for me. It's not the kind of place that will win any awards, but it was a well-flavored and executed American pizza that I certainly wouldn't mind hanging out with again.