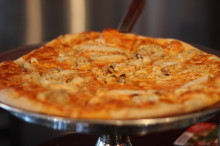 As an apparent result of success, Italian Village Pizza expanded recently into a few new locations. One of which was in Fox Chapel/Blawnox and when the wife and I needed to get out and get some grub one night, we found ourselves in the friendly confines of a place with possibly the greatest happy hour hours ever (7-9). And while I enjoyed a Yuengling, I was really at Italian Village Pizza for their namesake.
After a lot of thought and conversation with our awesome waiter, I decided on the Buffalo Chicken Pizza because the guy had lived in New York for a while and said it was a good choice. What can I say? I'm a sucker for pizza suggestions from people who have experienced great pizza.
It took a bit to get my pizza cooking, and when it came out I couldn't wait to dig in. So dig in I did and must admit I was somewhat disappointed. Had this been a grilled chicken pizza, it would have been pretty good, but the buffalo sauce and spicy flavor was a bit lacking. The dough was pretty much in New York fashion, not doughy but not crispy either.
In general it just seemed kind of like a safe place to get some pizza. Not a whole lot to complain about, but nothing to push people towards either.