First off, yes I know that Christmas was weeks ago, but sometimes it takes a while to get these meaty blog posts written, so back up off of me! As usual, my Jew Christmas led me to Chinese food. Only this time I was down in Dana Point, Orange County, which isn't exactly known for a high Jewish population. With luck and a little help from Jesus err umm the internet, I found a Chinese restaurant within walking distance of our beautiful hotel. The place was called Peking Dragon and was surprisingly full. We had to wait a while for our table, but when we were eventually seated, we had spent enough time looking at the menu to figure out exactly what we wanted.
Except then we watched the waiter bring an entire duck out to the table next to us. That was frigging awesome and I scoured the menu to look for their duck section. Peking, of course, is famous for their Peking Duck. Thinking about this reminded me of the time I was in Beijing with my mom and sister. The conversation went kind of like this:
Me: We have to try Beijing Duck while we're here.
Mom/Sister: What's the big deal, we only know about Peking Duck.
Me: Well, family, Beijing IS Peking.
So there you have it. Have you always been confused about what happened to the elusive city of Peking? It is now called Beijing and has always been called Beijing by the Chinese, so it's not one of those crazy Istanbul/Constantinople situations. So there is your daily history lesson, but back to the food!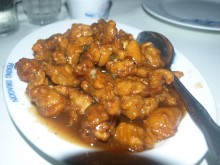 Unfortunately, the menu stated that duck had to be ordered a day in advance, so we stuck to our original plan. We split the chicken fried rice and I ordered their Garlic Fried Chicken. This chicken was deep fried with garlic green onion and some sort of spicy sauce. I didn't order it without the green onion, knowing it can be difficult for them to change up orders when it comes to Chinese food. Instead, I hoped the green onion would be minimal.
Our dishes arrived quite fast and looked great. The fried rice, as always, had vegetables in it, which I tried to avoid, but my garlic chicken was almost entirely vegetable-free. Yes, there were a couple tiny green onions, but they were so tiny that anyone but an unvegan may not have noticed them. I delved into my chicken with a hungry fury and my taste buds leapt for joy. It just tasted so good. No, it wasn't like the food you would get in China, but who cares when it tastes so good? I cleaned my entire plate of chicken, which must have amounted to at least a whole hen. Not to mention all the chicken fried rice I ate.
Peking Dragon was a great stop for a delicious Jewish Christmas dinner, and it's probably even better on nights when you don't have to wait in line to be seated behind the rest of the Jews in Orange County seeking sustenance.