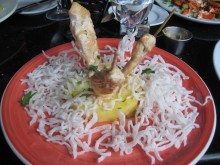 On a short trip down to San Diego to visit a friend, I only ended up having time for one meal, so I wanted to make it good. I was told the Gas Lamp area was a great part of town to find some grub, so we took a stroll through that part of downtown to see what we could find.
After checking out a couple menus prominently displayed outside of restaurants, we chose Urban Bar & Grill, mostly because they had a pretty great happy hour going on. Aside from some pretty swanky drink specials, all appetizers were half-priced. We took our seats at the lovely outdoor patio and opened our menus. Even though the main courses looked good, I knew I had to stick to the awesomely priced appetizers.
The two meatiest options were the chicken satay and buffalo wings. I ordered a set of each to mix up my palette and chilled out, enjoying the nice weather and atmosphere. When my food came, I was pretty impressed by the arrangement of the satay. Three skewers of chicken were impaling a hunk of pineapple and surrounded thin strips reminiscent of styrofoam. The presentation of the buffalo wings was pretty basic comparatively although there were a couple veggies in there that severely dipped my appreciation of the presentation.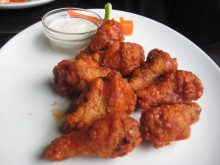 Despite the presentation, I was a little disappointed to find the satay tasted pretty generic. It was good, but didn't impress. The buffalo wings were pretty much the same story. I enjoyed the sauce, but was a little disappointed that the wings weren't wings at all, but actually drumsticks. A lot of people prefer drummies, but I prefer when a menu doesn't lie. These complaints aside, my meal was fulfilling, and even more so with the happy hour discount. Had the appetizers been full-priced, I may not have been such a happy camper, but I guess happy hour lived up to its name.