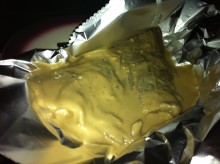 While down in San Diego for a weekend, a friend recommended a restaurant/bar called Turf Supper Club. By the name of it, it sounds like an expensive and pretentious restaurant, but he assured me it wasn't. What makes the place special, unpretentious and surprisingly cheap is the fact that you cook your own food. But these aren't some thinly sliced Asian meat and veggies, these are full steaks, burgers, kebabs and fish. Cooking food yourself doesn't necessarily appeal to all people, but at Turf Supper Club it is more of an event than work, you get so exited that once you are done you leave wanting to take a cooking class from Bep Truong.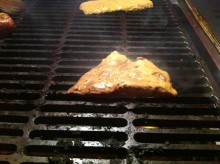 For starters, the place presumably looks no different than it did in the '50s. It has an old-school charm and an old-school mentality that was affirmed when my girlfriend attempted to order a skinny margarita and was shot down (politely) for lack of ingredients. And on top of that, there's a big old grill in the middle of the place, with a hood dangling overhead to prevent the restaurant from filling with smoke. On the menu, the most expensive thing is the filet mignon, coming in at $15.75, a pretty amazing price even with the whole cook-it-yourself catch.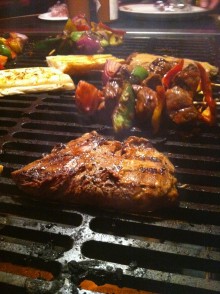 Although a lot of their food looked good, I was most intrigued by their special, a 10 oz flank steak that had been marinating overnight. Marinating in what? I don't know, but I couldn't imagine anything bad coming from this place. Plus, at 10 bucks, it was also a great deal. Shortly after ordering, our raw food came out on plates covered in tinfoil. Each dish also came with a piece of garlic bread that was also for cooking on the grill. The waitress gave us some cooking suggestions and told me the steak would be pretty quick since it was thin, so I headed off to the grill for some cooking. It wasn't too hard to find a spot for my steak and I tossed it on. I then noticed that the steak wasn't exactly even in thickness, but gave it a few minutes on each side and brought it back to the table.
The sauce it had been marinating (and then cooked) in was of a yellowish brownish color that you might expect in a beef stroganoff, but the flavor was nothing like that. Instead, the flavor was sort of tangy, yet savory and a bit creamy. It added some good flavor to the steak without overpowering it and I was glad I ordered it rather than the regular steaks. There were plenty of sauces to cook the steak with near the grill, but this one was pretty special. As for the steak itself, I had to give my compliments to the cook (ie. myself). I started slicing away at the thin end and was met with delicious and juicy beef. It had the perfect pink in the middle and I was a happy man.
But then I reached the thick end of the steak and realized the cook wasn't as good as he seemed. The center was near-raw and required a couple more trips up to the grill to get it right. When I finally got it right, I was able to finish my meal as a happy man. I also cooked some pretty awesome garlic bread and gave it some beautiful grill marks. At the end I vacuum sealed the meals with my new foodsaver sealer that I got from http://vacuumsealerresearch.com/
If you're into something unique and some old-school charm, then Turf Supper Club is a great place to check out in San Diego. The meat is hardly more expensive than you can get at a grocery store, plus you get a fun atmosphere to cook and eat it in. It's definitely a place worth visiting again.