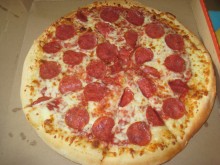 Once Little Caesars abandoned their "Pizza Pizza" slogan, they seemed to fall off the face of the earth. A few years later, though, they were reborn with the $5 Hot-N-Ready large pizza. The idea behind this is that pizza has become too complicated. Choosing a topping can be a pain in the ass, then finding the right coupon to go along with your purchase can be even more difficult. With the Hot-N-Ready pizza, you can walk right into as Little Caesars at any time, throw down five bucks and walk out with either a large cheese or large pepperoni. It's a genius idea, because who really wants a different topping on their pizza? But it only works if the product still tastes good. I recently paid a visit back to Little Caesars to see if their Hot-N-Ready was just like I remembered.
The only Little Caesars I really know of in LA is in the stretch of Centinela that falls between Mar Vista and Marina Del Rey, but really doesn't have a name for itself. I walked into the place and asked for a large pepperoni, which they gladly pulled out of a heating device and handed to me. I hoped that the pizza hadn't been there for long and a forked over my five bucks and change for sales tax purposes.
I took the box home and opened it up to begin eating. It looked like any normal delivery pizza would. Pepperoni covered it in just enough places and it didn't looked like it had been hanging out in the heating box for too long. I took a bite and was quite content with what I tasted. There were no special ingredients and really nothing special about the pizza at all, except for how easy and cheap it was to get. There are plenty of better pizzas in the world, but a reliable $5 pizza is difficult to find outside of Little Caesars.