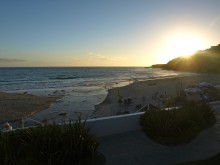 One of the perks of staying at the St. Regis in Dana Point (or knowing people staying there) is to be able to eat at the Monarch Bay Club. This restaurant was once only available to people who live in the adjoining neighborhood of $10 million dollar homes and those willing to shell out $17,000 a year for membership. Now, though, this exclusive joint is available to anyone willing to stay at the St. Regis and their guests. Upon arrival, I expected high prices and subpar food that is typically endemic of hotel restaurants, but what I found was something a bit different.
For starters, the location is awesome. It overlooks a river that feeds right into the Pacific and Monarch Bay itself is surrounded by some beautiful cliffs. And while the food on the menu couldn't have been considered cheap, it was not nearly as pricey as I expected from such an exclusive place.
After listening to our waiter explain the menu, I decided I had to have their Duck Breast. This came with smoked gruyere cheese grits, a mix of corn and bacon, and some anise peaches. It came out looking beautiful and every aspect of it tasted beautiful going down. This was definitely one of the cases where the presentation matched the taste. The breast was juicy and tender, while the grits mixed with bacon and corn were mind-blowingly delicious. Seriously, I've had some great grits in my day and these were definitely some of the best.
I'd definitely recommend taking advantage of the Monarch Bay Club if you ever have a chance. Not one of us had anything to complain about. The real trouble is finding that chance.