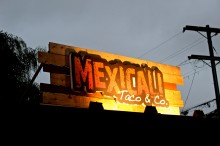 Once upon a time there was a little taco stand in downtown LA called Mexicali. For unknown reasons, they had to shut down, which was very upsetting to me considering I hadn't yet tried their supposedly amazing food. Yet, after some time they opened up a brick and mortar near Chinatown that I just had to get to. And now that I've been, I can safely say that anyone who hasn't been needs to go. Like as soon as possible.
Although Mexicali claims their food reflects Baja in Mexico, I couldn't find one dish that fit into the ordinary mold of Mexican food. Yet, rather than fusion, each simply seemed unique, much in the vein of Tinga.
To begin with, we ordered the Vampiro with carne asada. This is essentially a quesadilla with a schwarma-esque garlic sauce. And it is nothing short of delicious. The meat itself was perfectly seasoned, while the garlic sauce simply added to the flavor instead of covering it up.
After that we had the Cachetada, which we ordered with al pastor. Speaking of schwarma, they cooked up their al pastor in the traditional style, with a rotating spool of meat that they sliced bits off of. The Cachetada is like a tostada, topped melted cheese, some amazing meat and a snazzy chipotle aioli sauce. Like the Vampiro, this is not to be missed.
Next came the Zuperman. This dish seemed to be custom-made for an unvegan. Stuffed between two tortillas, the Zuperman is stuffed with melted cheese and all three meats (pollo, asada, pastor). While great in concept and probably something I would have loved anywhere else, it just couldn't compete with the creativity and popping flavors of the other dishes.
Our "final" dish was Queso Fundido, a sort of Mexican fondue. For this we ordered their pollo. To eat, it came with a side of guacamole and tortillas so we could build our own tacos. While this was unquestionably awesome and probably some the best fundido, I have to say it didn't quite live up to the creative bar that had been set by our other food. Yet, when I'm complaining about a perfectly executed dish, you know the place is damn good.
In fact it's so damn good that I had to order another Vampiro. This time I went with al pastor inside and learned of one of Mexicali's secrets – all of their dishes can be ordered with cilantro, onions and pineapple. This was apparently an amazing combo that the nice lady behind the counter told me and I was eager to try it out, without the onions of course.
The result was a nice spin on something I was already in love with. To make matters better, none of the dishes come with vegetables, unless you count the big ole spring onion they use as a garnish. All the veggies have to be added at the salsa bar instead. Plus it all comes with beans. And did I mention it's cheap? Honestly, I don't know why you are still reading this and not going there now. You deserve it.