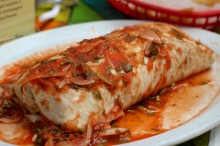 Just when you think you've eaten every important burrito LA has to offer, a coworker comes along and tells you that you have to try La Cabana in Venice. I'm sure this has happened to everyone and just like me, everyone else probably thought taking a trip to La Cabana was a good idea. After all, while I had never read about it anywhere, I trust the word of real people more than anything.
Immediately upon entering, I knew we were in for a treat. La Cabana looks straight out of Mexico, and not in a gimmicky way. Tortillas are made fresh and every meal is enormous, with prices that range from about $10 to $15.
After an incredibly long perusal of the menu, I opted for the Asada Burrito. This relatively simple burrito was filled with the aforementioned asada, rice, beans and salsa ranchera. It was also covered in that same salsa. When ordering, my wife made sure to ask for it without vegetables (I was in the bathroom) and the waiter asked if I had a vegetable allergy. I may as well.
While waiting, I quenched my appetite a bit with the fresh chips and salsa. They were damn good.
When the burrito arrived, it was at least six times the size of my head (I may be embellishing a little) and the waiter made a joke about it having extra veggies. In truth, though, I found the burrito covered with a salsa and giant chunks of onions. While these are probably part of the salsa ranchera, I was still disappointed to find them. the disappointment only increased further when I found many more of these onions in the innards of the burrito. Yet, as I avoided them, I also reveled in the delights of the carne asada and the delicious tortilla.
So my takeaway from La Cabana was that it is definitely a hidden gem in LA. The fresh tortillas are fantastic and everything else is just of great quality. But, I could have done better with my order. It was only good when I know it had the potential to be great.