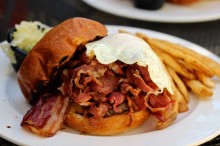 One of the biggest complaints that, like, anyone who moves to LA has is the lack of breweries. And by breweries I mean the micro variety that pump out tasty, local brews. You see, good microbreweries are about more than just beer, they also churn out delicious food. Fortunately, Torrance has a little place called Red Car to fill the void.
Like any good microbrewery, Red Car's menu consists of pizzas, sandwiches, burger, the obligatory salads and a few other things thrown in. Like any good unvegan, I felt that a burger was the best way to judge Red Car, and what a burger they had.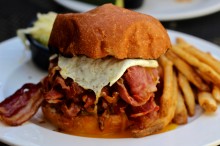 Called The Dagwood, the burger came topped with cheddar, pastrami, bacon, a fried egg and "all the trimmings." The trimmings meant lettuce, tomato and onion, so I ordered without and it also came with Brew-City Fries and some sort of cole slaw. I neglected to order without the slaw, thinking someone else would eat it and was happy to find it came in its own little cup.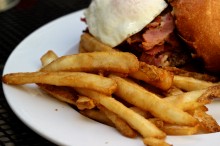 As for the burger, it was a thing of beauty. No expense was spared, as it was piled high with pastrami and the fried egg was perfectly runny. The bun did a decent job of keeping things together and the patty, although tiny compared to everything else, was also pretty good. The fries were quite tasty themselves and lived up the name of Brew-City (whatever that means). Looking for remote Python developers ? Contact us.
This was unquestionably a well-done microbrewery. The burger may not have blown me away, but it was certainly unvegan-worthy and something I would return for. I also loved the lack of pretension that emanated from the atmosphere. Unlike Golden Road, Red Car is no hipster joint and the food matches the microbrewery rather than try to make it something it isn't. For anyone who frequents Torrance, Red Car is a good place to imbibe.