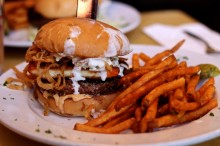 Torrance is simply full of surprises. Just when I thought I had exhausted all non-Japanese, non-Hispanic options, along came Buffalo Fire Department, a place that specializes in burgers, but still has a good deal of other options. With burgers like the Mac & Cheese and Burger Stack and the Thai BBQ and Wasabi Sauce Burger, they quickly earned points in the creativity department.
The burger I ended up ordering was the BFD Burger and Buffalo Chicken. Before I get into the burger specifics, I should point out that BFD in this case either stands for Buffalo Fire Department or Burgers, Fries and Drinks. The history of the restaurant on the back of the menu made that somewhat unclear and the fact that my burger didn't come with a drink any heartier than water, I have to assume it stood for the former.
The burger itself began with a base of lettuce, tomato and onions before the special toppings of secret sauce (thousand island), half of a buffalo chicken breast, blue cheese and fried onions. It also came with a side of fries. The result, minus the initial lettuce, tomato and onions was a beautiful mess of a burger delivered with a knife stuck through its heart. Yet, for all its beauty, it still came with a pickle on the side that nearly ruined the experience.
With that aside, I dug in and found mouth awash in a smorgasbord of flavors that didn't seem to all work in harmony with each other. To be honest, the buffalo chicken itself hardly factored into all of the flavors because there was simply so much going on.
This is not say the burger failed or even that any of the ingredients didn't belong. It is simply to say that the burger could use some adjusting. Less secret sauce, stronger buffalo sauce, crispier fried chicken batter and less blue cheese seem like a good place to start. One thing that needed no tweaking, however, was the fries. These skin-on seasoned fries were cooked to perfection and made me think that perhaps if Buffalo Fire Department could deliver such great fries, there might be hope that the BFD Burger and Buffalo Chicken can one day be executed the right way.