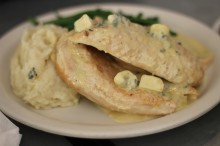 Diners, Drive-Ins and Dives can be a fun show to watch because all of the food on it looks, well, amazing. Yet, in my experience not all the food on it is as amazing as it looks. Plus, watching it requires watching Guy Fieri balance his sunglasses on the back of his head. Recently, I found myself at North End Caffe in Manhattan Beach, completely unrelated to DDD, only to find out the restaurant had been on the show.
The place definitely had the right vibe for the show, with owners who had a great vibe, unique-looking food and a sort of upscale divey atmosphere. Unlike most restaurants, North End Caffe doesn't maintain a regular dinner menu and instead relies on a chalkboard and Facebook to get their meal items out. Some items are staples, but others could change any day.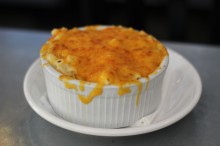 Rather than eating just one thing, the wife and I ordered two things to split. One was the Spaghetti with Meatballs and the other was the Short Rib Plate. The plate also came with mashed potatoes and snap peas, but I was able to get the peas swapped out for an appetizer of Mac and Cheese for a bit of an upcharge. This was a great choice, as the Mac and Cheese was simply awesome. It had a melty, tough top and a creamy insides that packed a punch of flavor.
As for the mains, the Spaghetti and Meatballs was all about the meatballs. Unlike your typical meatballs, these guys were massive. In fact the dish itself was big enough for two meals. The meatballs were perfectly seasoned, moist and round. But without a good sauce, they would have been lost and they were fortunate to be served in a light tomato sauce that simply accented the dish.
The short ribs were another hit. They were so tender that no knife was necessary, and so delicious that I was almost saddened by the fact that my stomach simply could not hold all of them. The mashed potatoes made for a great little side to complete the meat and potatoes dish that I always long to eat.
I also got the chance to try my dad's Gorgonzola Chicken, which came with mashed potatoes and green beans. Just like everything else the North End Caffe offered us, this was superb.
My only regret was that I did not know of the existence of the North End Caffe sooner. Back when I worked in El Segundo it would have been a favorite spot of mine. As it is, it will certainly be a favorite spot of mine, just not the most convenient one. And don't be fooled by the $20 range of prices, because each dish is at least two meals.