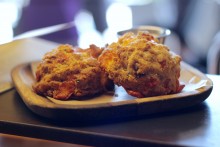 MB Post (or Manhattan Beach Post to some) has long been a spot I wanted to get to. Two years in Pittsburgh derailed those plans temporarily, but I was glad to find out upon my return to the West Coast that MB Post had not shuttered after a brief trendy phase. This meant that it was truly a place worth visiting and we decided to make a "Bangin' Brunch" (their words) out of it.
Brunch began with an order of their Bacon Cheddar Buttermilk Biscuits, which turned out to be even better than they sounded and looked. These things were so incredibly moist in a buttery way and were not at all dried out by the saltiness of the bacon and cheddar. In fact, the bacon and cheddar were both perfect balanced in terms of offering their flavor and not overpowering each other. The maple butter served with them offered a bit of sweet to counter the saltiness, and while it was welcome these biscuits were just fine on their own.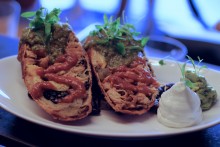 As for the main brunch course, I ordered their Chimichanga, which was composed of scrambled eggs, chipotle chicken, pepperjack cheese, black rice, plantains and salsa verde. Unbeknownst to me, it also came with a dollop each of sour cream and guac, but unfortunately there were also some onions hidden inside the chimichanga. Otherwise, it was a great meal to open the day, filled with a nice mix of flavors. If only Manhattan Beach weren't so damn far away I'd be inclined to make MB Post a must for visitors.