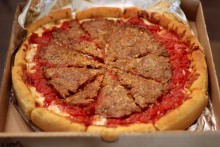 LA has never been and will never be known as prime destination in the world of pizza. Sure, there are some great spots for a variety of pies, but there is no such thing as LA-style pizza. Nonetheless, LA does its best to make transplants from other pizza cities happy. Take, for example, Masa of Echo Park, which dishes out some of the deepest dishes this side of Chicago.
Moreover, they have a pizza that may as well have been invented for unvegans like me. Simply put, it's called Lots of Meat and is chock full of pepperoni and sausage, with everything else that makes a real Chicago-style deep dish pizza.
Upon opening the box (my buddy picked up the pie), I was impressed to find that while the pepperoni adhered to the Chicago law of toppings under sauce, the sausage did not. In fact, instead of bits of sausage, there was an entire thick layer of sausage on top of the rest of the pizza. This was both fascinating and delicious. What was especially delicious about is was that it gave the eater (me) an opportunity to appreciate each distinct flavor without them all blurring together. As for the non, meat, my only complaint is that at times the sauce was more like a pile of stewed tomatoes than an actual sauce. If you like whole tomatoes that's great, but if your saucy like me you may find yourself plucking out some tomatoes.
Either way, Masa of Echo Park was a delicious taste of the Midwest and did not fail in delivering a real deep dish pizza.