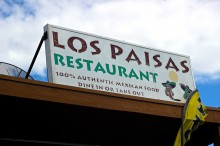 Ever since starting my job in Torrance, one of my coworkers has not stopped talking about the tacos at Los Paisas. Finally, we made our way there so I could see what he was always yammering about. I quickly found out that Los Paisas was more than just a restaurant, it was also a bakery and mini-market. As good as multiple identities are, though, all I cared about was tacos.
I ended up ordering four because they were damn cheap. I went with two carne asada, one carnitas and one al pastor. Just like real Mexican tacos, these were simply topped with onions and cilantro, but I ordered mine without the onions.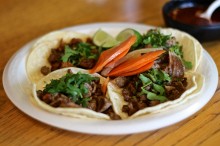 There was no warning about the pickled vegetables that came atop my tacos, but I moved them aside and they had little impact upon my experience. Although I was a big fan of the flavors of the meats they used, I actually found the tacos to be a bit dry. Even the carnitas, which is usually the king of grease, tasted subdued. Yet, they had a truly awesome salsa that went to good use as both a flavor enhancer and lubricator.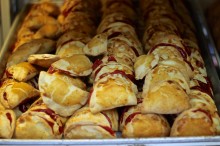 After chowing, I browsed the market and bakery and snagged a few pastries to wash the meal down. Were it not for the imperfect meat, Las Paisas could have been awesome. Instead, they are just another one of LA's endless selection of decent taco joints.