On name alone, Everyday Noodles in Squirrel Hill might draw comparisons to Noodlehead. But, where Noodlehead is Thai, Everyday Noodles is pure Chinese. And I mean pure in the sense that this isn't some Chinese restaurant catering to the desires of Americans. This is for real. With a near-constant noise of noodles being prepared by hand behind a viewing window that is sometimes displaced by the intricate construction of dumplings, Everyday Noodles is the place to be.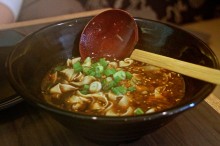 We started things out with an order of their Dan Dan Noodles Szechuan Style (a surprising spelling choice), which came with a choice of skinny or wide noodles. Smartly, we went with the wide. Without a doubt, I can say that these were the best dan dan noodles I have ever had. Of course, I never really had such noodles while living in China, but these crushed any I had eaten in the US by far. The combination of spicy sauce, noodles and little bits of meat were damn tasty, surely assisted by the fact that the noodles were as fresh as hell.
On top of that, we ordered some Xiaolongbao, or as they were called on the menu, Pork Soup Dumplings. Once again, I was impressed, although not quite as impressed as I was by the noodles. This is no fault of the dumplings, but a recognition of the greatness of the noodles. These came served with "dumpling sauce," but I asked for black vinegar to eat them the only way I knew how and my waitress was happy to oblige. They also have chili oil by request. The dumplings were nice and thin, and everything you could want from xiaolongbao.
If you're still reading this, it's time to get to Everyday Noodles. It's about as real as Chinese food gets and might just be the best thing going in Pittsburgh's food world these days.