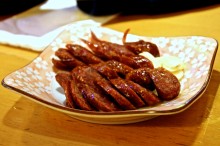 How do you know if an ethnic restaurant is authentic? You look inside and see if people resembling that ethnicity are inside. Or, better yet, you let one of them take you there. At least that's how it went down for me when a Taiwanese friend of mine invited me to Rose Tea Cafe in Squirrel Hill (supposedly the Oakland location isn't as good) to get some Taiwanese food. Rose Tea Cafe isn't just some tea house, it's a full-on restaurant with almost too many options to choose. So we turned to my friend to figure out what to get.
We started out with an appetizer of Taiwanese Sausage. This sweet sausage was served with totally raw slices of garlic that burned when eaten, but nonetheless seemed to pair well with the sausage. My buddy said this was more of a dish to go with beers, but I enjoyed it as a gateway to a full meal nonetheless.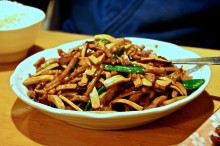 Next we had Shredded Pork with Dried Bean Curd. I always find it funny when menus do a direct translation of "doufu" to bean curd when we Americans simply call it tofu. Alas, this dish was good, but nothing totally special. Perhaps it was because of the high tofu-to-meat ratio or perhaps because it simply paled in comparison with the other two dishes we ordered.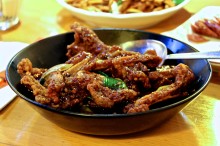 One of these superior dishes was Short Ribs with Spicy Sauce. These had a black pepper seasoning as an option as well, but spicy sauce just sounded so much better. And these were quite good. The sauce itself was pretty awesome, and the short ribs were served all sliced up with the bones in. They tasted like they were fried, so they were cooked pretty thoroughly, but they were still pretty tender and really just had an amazing flavor.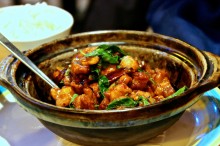 Finally, my favorite dish was the Taiwanese Chunk Chicken. Like the short ribs, this was a spicy dish, but the flavors in this dish were unbeatable. In addition to the spice, the chicken was tossed with full cloves of garlic that compounded the fact that I would not be getting any kisses that night, but also took the flavor up a notch. The only downside, and I hate to say it, was that there might have been too much garlic. I know, sacrilege. But seriously, I just would have appreciated a higher chicken-to-garlic ratio. That's all.
Rose Tea Cafe was a pretty great foray into Pittsburgh's Taiwanese food. According to my buddy, it's the best he's had so far and until he tells me otherwise I'll be heading back to Rose Tea Cafe next time I get the Taiwanese urge.