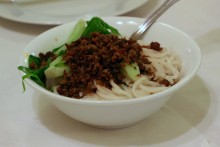 Down at the bottom of Squirrel Hill is Chinese spot called Chengdu Gourmet. I heard rumors that it could produce some real Chinese food, so I went down with a wife and a friend to see just how true this was. It turned out the place has both a traditional Chinese menu and an American Chinese menu, so we ignored the latter.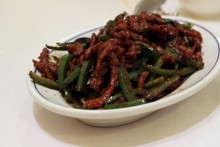 We began with an order of Dan Dan Noodles (pictured above), which were pretty stellar. They had a ton of flavor with a fair amount of minced pork to go with them. They didn't have peanuts, which is something I usually like, but they weren't missed here.
Next we had the Shredded Beef, which was essentially thin strips of beef with even thinner strips of green peppers. There was a slight kick to this that I enjoyed and the beef was tender and damn flavorful.
Then we had the Diced Chicken with Dried Pepper Chengdu Style. This was definitely the type of dish I had seen in Sichuan, coming topped with loads of dried chilis, but only to give it a nice flavor assuming you don't actually eat one of the peppers. The chicken was also pretty tender, boneless and not crisped up like you might often see in such a dish (but that just means it's Chongqing style instead of Chengdu).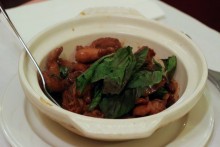 Finally, we had the Chicken with Basil, which was recommended after my wife asked for a chicken dish with veggies that wasn't spicy. It turned out that this dish only had veggies if you count basil leaves as veggies. So basically it was perfect for me. The chicken came in a clay pot and had a great sweet flavor to it that wasn't overpowering and was a good way to balance out the spicier dishes.
I left my meal as a big fan of Chengdu Gourmet; through the three dishes and dan dan noodles I definitely felt like I had eaten something pretty authentic. It's been a while since I lived in China, but the traditional Chinese food was undoubtedly good and I see no reason to try out the American style. Just make sure you're careful what you wish for when it comes to veggies.