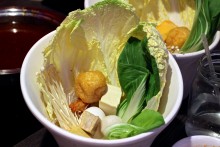 Community hot pot like that offered at Hunan Bar is a great thing. Yet, sometimes it's nice to just have your own stuff to eat. That's where I Tea Cafe in Shadyside comes in handy, offering personalized hot pot, but unfortunately lacking in the all-you-can-eat aspect. They also try to make up for it with some bubble tea and tasty appetizers.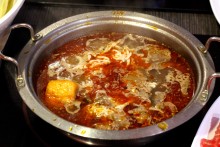 Yet, all I really cared about was the hot pot and ordered mine with beef and a spicy broth. I made myself a delicious sauce filled with sesame and garlic then waited for the main food to come. What came first was an odd assortment of vegetables and tofu that I could have done without. Somewhere in there was some taro, a fish ball and an egg, so at least it was salvageable. I also completely understand why those extras are there, because some people gotta eat.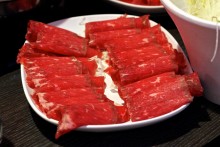 When the beef came I must admit I was a bit disappointed to find it was just frozen rolls of "brisket." This is the most basic and flavorless of the beefs usually found at hot pot, and while the broth helped to give it some flavor, I couldn't help but think about the better beef that I know to be out there. Plus, any additional items not included in the random bucket of veggies or meat choice would cost extra. We did try out a couple different tofus, but this was no substitute for better meat.
In the end, while I Tea Cafe has personal pots, it can't quite compare to Hunan Bar in terms of value and variety. It's convenient if you life in Shadyside, but otherwise it's definitely worth making the trek to Oakland.