'Twas the anniversary of my cohort's birth and we set sail for the village of Buena Park on a vessel froth with libations. The night was clear and boded well for our journey. Two score and five minutes after our departure, many of us hath imbibed a hearty helping of spirits and longed for the journey's end. Just when all seemed lost and starvation had begun to rear its ugly head, hark, we sighted our destination, Medieval Times.
We stormed the fair castle and made our way to the alehouse. The beer wenches welcomed us and our gold with open arms as we waited to partake in the festive occasion.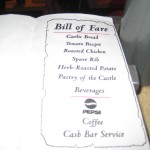 Our party commandeered the red and yellow parcel of land and demanded service. The bill of fare for the evening was garlic bread, tomato bisque, roasted chicken, spare rib, herb-roasted potato and pastry of the castle. I elicited a rousing "NAY" unto the tomato bisque, but remained passionate in my unyielding desire for the remainder of the feast.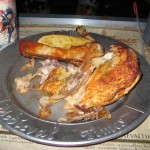 My half-chicken was brought forth from the depths of the castle and placed upon my platter. I watched and scoffed as one of my foolish dining companions ordered the vegetarian alternative – a pox upon her. Lest I consider her folly anymore, I set upon my own regalement. With no cutlery in hand, I engaged in a fierce hand-to-hand combat with my roasted foe. Mid
way through, the battle was joined by a spare rib, which I rapidly consumed. I became so engrossed with my own battle, I nearly lost sight of the rest of the battle unfolding in the arena before me. As the foolish knights of the arena continued with their jousting, I vanquished my foe until nothing remained except bones.
Lo, in celebration of my victorious encounter, I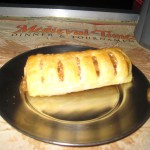 gorged upon the pastry of the castle and enjoyed the rest of the evening's entertainment. 'Twas truly an evening to remember, and be it not for that tomato bisque, it shall have been an unvegan dream.