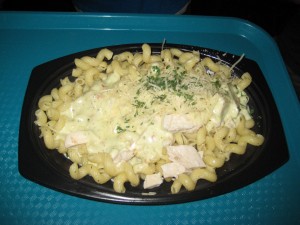 Eating at Disneyland is never an easy matter. There are quite a few options, but they all seem to be painfully overpriced. Luckily, when I go to Disneyland, I do so with an employee of Disney and get to piggy pack on his discount.
Out of the convenience of its proximity to Space Mountain and Buzz Lightyear Astro Blasters, we decided to eat at Redd Rockett's Pizza Port, Disney's version of Italian. Despite the name of the place, the pizza looked like the worst they had to offer. The cheese looked like plastic and the pepperonis weren't shaped like Mickey ears (serious disappointment). Also, it was about $7 a slice. Luckily, since Disneyland is made for children (and I have taste buds similar to an eight-year old) there were almost no vegetables to be found. I got the "Count Down" Chicken Fusilli, which was the spiral fusilli noodles, a cream sauce, parmesan and chicken. I also got the "Far-Out" Focaccia Bread to split with a friend.
The pasta actually turned out to be decent for something that's cranked out at the counter with vats of ingredients. I wouldn't compare it to any real Italian restaurant, but for something inside Disneyland, I couldn't complain too much. It was really lacking in spices and as I kept on eating, it tasted more and more bland. The focaccia was a nice touch, as I certainly wouldn't have been full enough just from the pasta. As long as I still have my friend's discount, Redd Rockett's Pizza Port is a place worth returning to.