DineLA extended the LA Food week to make it almost a full month, so I made sure to experience another of the participating restaurants. This time it was One Pico at Shutters on the Beach in Santa Monica. It's kind of tough to find, since very little of the building actually mentions the restaurant name, but once you realize that the restaurant is actually within a hotel, things become a lot more clear.
One Pico's DineLA menu looked great from the unvegan standpoint. They didn't waste any of their appetizer space with salad and instead offered some good-looking seafood. I chose to start out with the Maine "Peeky Toe" Crab. This was made with avocado, apple and fennel. I wasn't really sure what fennel was, although further research has taught me it is some sort of plant, so I didn't know if I should order it without. I stuck with it and took the risk. The crab surprised me by not having much flavor. The strongest flavor was actually onion-esque, making the crab a little disappointing, but while it wasn't a treat for my sense of taste, my textural senses were jumping for joy.
Of the main courses, I chose the Free Range Chicken. It was tough choosing this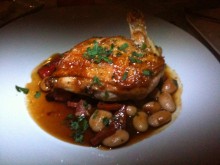 rather than the Filet Mignon, but the ingredients that came with the filet (artichokes, market carrots and olive jus) couldn't compare with the chicken, which had piperade, chorizo and giant white beans. Piperade was another food that I had never heard of, and I found it was some sort of pepper. This was okay because I was able to avoid it while eating. The chicken was nice and juicy with a crunchy and flavorful skin. I even had the chance to test out the filet (without risking any veggies) and it was also quite good.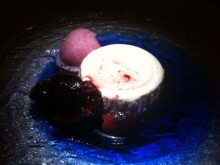 As with the rest of the menu, the dessert wasn't easy to choose. Luckily, since I was eating with two other (wonderful) people, and they ordered the first two desserts, I was left with the remaining Panna Cotta. This came with roasted figs and concord grape sorbet. I tested out the other desserts (creme brulee and apple tart) and felt very lucky that my choice had been made for me. The panna cotta was like a subtle vanilla custard with a perfect texture. Although I usually like figs, I wasn't a big fan of these, as they tasted somewhat fermented. The grape sorbet was good as well, but unnecessary when stacked up against such a great panna cotta.
In the end, I was very happy with my choices. The appetizer could have used more flavor, but the meal really picked up with the main course and dessert. I'm sad that DineLA will soon be wrapping up Restaurant Week, but glad that I've had the chance to try a couple new places.