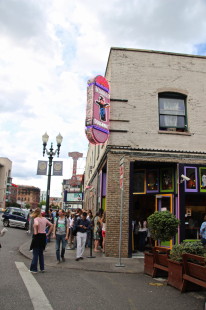 No self-respecting meat blogger can go to Portland and leave without first paying a visit to Voodoo Doughnut. That's because Voodoo Doughnut is no ordinary doughnut shop. Not content with simply making a few tasty crullers and eclairs, Voodoo Doughnut has come up with doughnuts topped with just about any ingredient that you could ever want on a doughnut, and some you might not. Think Tang, Cap'n Crunch and weird vegan things that simply seem necessary in Portland. Some are even shaped like dongs, but that's a whole other story. In my story, the line in front of the place only took about a half an hour, which I was informed was not terrible despite that it was mid-afternoon on a Thursday.
Despite the obvious allure of the doughnuts above, there was one in particular I was attracted to, called the Bacon Maple Bar. Shaped like an eclair, this doughnut wasn't topped with chocolate and filled with custard, but was instead topped with a maple glaze and real strips of bacon. It looked like a beauty and turned out to have a taste matching that beauty. As my first doughnut with maple and bacon (I know there are others out there), this one set a nice bar with a sweet and salty mix that only could have been improved with more bacon.
To balance things out, we also picked up a cookies and cream doughnut, which meant it was one of those normal-shaped doughnuts, but topped with a creamy glaze and chunks of Oreos. This was unquestionably a good doughnut, yet could not hope to compete with the bacon. In truth, few things can.
So would I wait longer than 30 minutes to get my hands on their Bacon Maple Bar again? In two words: probably not. Voodoo Doughnut is a must-eat, but a bit on the level of Pink's Hotdogs in LA. I'm oh so glad I got the chance to try it out, and would eat the crap out of it with a shorter wait, but don't need to necessarily go through the whole process again.