Possibly the hardest part about leaving LA (besides giving up my income, friends and weather) was leaving the delicious Mexican food behind. But when we were in Portland, we learned that there was hope for Mexican food beyond the world that hugged that southern border. We were taken to ¿Por Que No?, a little taqueria shack in what seemed to be mostly a residential neighborhood in North Portland.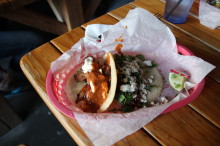 From the look of the line outside, this place was going to be pretty fantastic. Based on the options, I thought the line was going to be worth it. ¿Por Que No? seemed to be all about the tacos, so I chose their Pollo Asado and Carne Asada varietals. The pollo came with spicy chipotle rubbed grilled Draper Valley (which I'm guessing is local or organic or something) chicken, crema, spicy salsa roja and pico de gallo, which I ordered without the pico. The carne came with Cascade Natural (same guess about local and organic) steak, onion, more spicy salsa roja, cilantro and cotija cheese, but I got mine without the onion. Plus, we needed some chips and salsa.
During the short taco wait, I loaded up on some of their wide variety of salsas, so that when my food arrived I could shape it to my liking. It turned out that the salsas weren't necessary, but they were still nice to have. The tacos were quite awesome, and definitely lived up to my lofty expectations as a former Los Angeleno. Yet, they weren't like your traditional tacos. Instead, I would compare them more to a place like Tinga, that took some unique flavors and put them into Mexican food. No need for fusion, just a need for creativity and good ingredients worthy of making an unvegan like me happy.