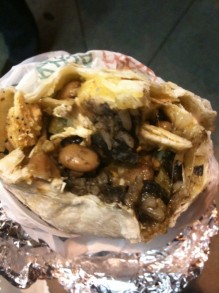 Living in Southern California, I haven't really had any need for places like Baja Fresh. There are just too many good local Mexican places. Yes, I know I have an unhealthy infatuation with Taco Bell, but that is fast food, something that Baja Fresh does its best to avoid being. Nonetheless the Culver City location is right down the street from me so I couldn't avoid it forever.
I walked in and had a hard time deciding what to order. They had a good amount of choices, but most of them had a fair number vegetables. I did find one burrito, though, that was free of veggie invaders. It was called the Nacho Burrito, and despite the oxymoronic nature of the name, I ordered it.
This burrito was stuffed with chicken, cheese, beans, smoky queso fundido, jalapenos and salsa crema. It didn't take too long to make, and when it was finished, it tasted surprisingly good. I was actually expecting very little from this and was surprised that it tasted good. I was always under the impression that Baja Fresh had healthy, yet flavorless food. In this case, though, the food was neither healthy nor flavorless. It was a great burrito for an unvegan and although it wasn't spectacular, it did a pretty good job.