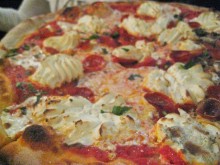 While Artichoke represents the new trendy side of New York pizza, it wasn't really quite New York style pizza. You know, the kind you have to fold a bit to eat and everyone says tastes better because of the water. Yeah, Artichoke wasn't that type of place, but Lombardi's sure was. Apparently Lombardi's is a pretty big deal and they claim to be the first American pizzeria. It is quite a boast, and apparently it does a good job of filling the seats, but we got there around 3:00 (on the way to Uniqlo of course) and only had to wait about 10 minuted for a table to open up.
We knew we were getting pizza, but had to decide what kind we wanted. From their pretty sizable list of toppings, we decided to get pepperoni and ricotta cheese on top of the mozzarella, sauce, romano and fresh basil. Although the pizza was going to be pretty big (a small is 14″ and a large 18″), I was surprised by the cost of the toppings. $3 for just one topping? It got cheaper the more toppings you got, but that was a little surprising considering we were already paying $19.50 for the large. Oh and they don't take credit cards, so you have to bring enough cash for those pricey pies.
Anyway, back to the actual pizza. It came out pretty quickly and looked quite nice. There were huge dollops of ricotta on it, which was great for someone like me who doesn't know the meaning of too much cheese. I took a slice from the pie, and as I did I realized this was the way New York pizza was meant to be. This, of course, was because I had to fold the thing to get it anywhere. But folding alone doesn't make a pizza great. I started eating and it was definitely good. The cheeses were good, the sauce was good, the pepperoni was good and the dough was good. Yet, that was really all it was, just good, and nothing really more.
I don't know if I had built up New York pizza too much (in truth, I had never even heard of Lombardi's), but I definitely didn't feel like this anything amazing. If there is something in the water, I couldn't really tell. I'm glad I went to Lombardi's, but now I know that being the first pizzeria doesn't mean you are also the best.