A few months ago, a sign appeared in North Hollywood for a soon-to-open restaurant called Otis Jackson's Soul Dog. The sign claimed "premium hot dogs & soul fixins" and while I wondered who the hell Otis Jackson was, I figured that this place wasn't just serving the hot dog meat, but also the souls of the animals in the hot dogs. But, with Vicious Dogs just a 3 minute walk down the street, this was going to have to be a damn good hot dog to compete.
If you'll recall, when I visited Vicious Dogs for the first time, I had a little something called the Daddy Mack, which was a bacon-wrapped dog topped with mac and cheese and BBQ sauce. It seemed that Soul Dog had taken a page right out of Vicious's with their creatively named Mac Daddy Dog ($5.99). This dog was made with a choice of beef "snap" dog or turkey dog, both of which are nitrate-free. Then it was topped with mac and cheese, fried onions and bell peppers. Every dog on the menu seemed ot have some sort of veggie mixed in, which was most personified by their BBQ Chicken dog, which you couldn't order without peppers, because the peppers were mixed in with the chicken. But the Mac Daddy could be ordered without the peppers. Then I asked what kind of state the fried onions were in and was told they were breaded and deep-fried to a crisp, so that any vegetable-like remnants were gone. This pleased me and I allowed them to be present in my dog. But that alone wasn't going to be enough for me, so I also ordered their Chili Cheese Fries ($4.79).
Both these items were a little pricier than your typical hot dog and fries lunch, but they claimed to have great ingredients and I would soon find out just how valuable they were.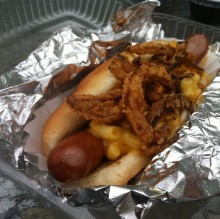 First, I want to praise the quality control of Soul Dog, because after my hot dog had been prepared, the guy who put it in the to-go bag (possibly Otis Jackson himself) double-checked to ensure there were no peppers in the dog. He likely knew what would happen to his restaurant if he crossed the unvegan. Fortunately, it was pepper-less already. I also feel the need to point out that it took a full 10 minutes after ordering to receive my meal. I know that doesn't seem crazy, but for a hot dog and chili fries it did seem pretty long. On the other hand, maybe I should be ecstatic that it was freshly made with care.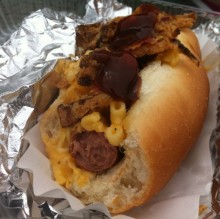 Yet, little of the above paragraph wouldn't matter if my meal didn't taste good. And it actually did taste quite good. I'll start with the fried onions, which had been fried so deeply that were basically on the dog to add crunch. The mac and cheese was definitely an upgrade over the shells and cheese I got at Vicious Dogs. The cheese was creamy and pretty tasty. The artisan bun had been toasted and maintained the one stipulation necessary for any hot dog bun: it's didn't break. With a dog filled with mac and cheese, this is especially important and it passed the test. And oh, let's not forget the dog itself. There was certainly a snap to the skin, which is always great, and the beef flavor was great, but there was some weird kind of texture in the bite down. I don't know if this was because of the lack of nitrates or what, but there seems to be some sort of little disconnect between the inside and skin. Oh and one more thing, I also added some BBQ sauce and hot sauce to the dog because it felt like it needed a little extra kick of flavor. This definitely improved the overall flavor of the thing.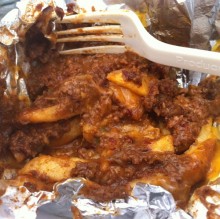 Then there were the chili-cheese fries. These guys had been seasoned before adding said chili and cheese. While this seems like a good idea, it actually made a few of the bites overly salty (chili and cheese pack plenty of salt on their own). Also, I think the fries could have spent a little more time frying to retain some crunch, as they were somewhat soggy from the first bite. Yet, the chili and cheese themselves were quite impressive. It was by far the beefiest and best-tasting chili I've had on fries in LA. With Coney Dog opening next week, this chili will be put to the ultimate test, but for now it is definitely a chili worth ordering. I tried it on a hot dog, too, and it's so versatile that it tasted great there too.
So North Hollywood has a bit of a hot dog war on its hands. But in this war, I don't suspect there will be any losers. Vicious Dogs will handle those looking for a cheap dog with insane ingredients, while Soul Dog has some more upscale ingredients for a higher price. Either way, I win.