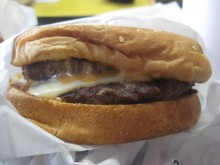 One day, while driving down Ventura in Studio City, my coworkers and I spotted a burger place that looked great. Not only that, but they also spotted a comic book store above and geeked out. Now I am not ashamed to say that I once collected comics, but those were eventually replaced by beer and burgers, so I was much more interested in the burgers in this case. The place was called Fat Jack's and we vowed to return one day.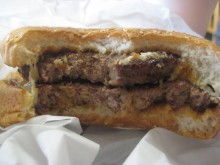 When that day came, I was pretty excited. We drove over and waltzed in. The place was surprisingly empty and was set up with a counter for ordering, some booths and small tables. The man behind the counter had a thick accent that I thought could be Ukranian…or Bosnian…or whatever…it was great. I looked at the menu on the wall and figured the Fat Jack Special would be a good place to start. The excited Bosnikranian told me it came with pickles, onions, lettuce, tomato, jack cheese, a special thousand island kind of sauce and two patties. Of course, I ordered without the veggies, then I made it a combo with some fries and a drink for about 8 bucks and was ready to roll.
The burger came out after about 10 minutes and was wrapped in the quintessential Los Angeles style. It looked great and I dug right in. The patty was tasty and well-seasoned, while the sauce and cheese worked pretty well with the meat. The bun was just your average sesame seed-laden bun, but I wouldn't want anything fancier for a place like this. The only downside of the burger was that it was a little bit dry. Not too dry to ruin it or anything, but dry enough that I wouldn't have minded the burger leaving the griddle just a little bit sooner.
The fries were delicious and seasoned perfectly. They had a nice crunch on the outside and gave way to some potatoey goodness on the inside. So overall, I'd say it was a pretty good meal. No, the burger won't win any contests, but it got the job done and would give most fast food burgers a run for their money.