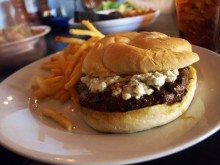 Pretty much since I first started visiting my fiancee's parents in Carefree, I've had Brisam's and their supposedly amazing burger pointed out to me on nearly every trip through Cave Creek. Finally, I had enough and demanded we go so I could check out the burger for myself.
Brisam's is essentially a sports bar and things probably get pretty crowded at night, but we ended up going for lunch and got a quick seat and a quick look at the menu. While their signature Brisam's Burger probably attracts the most eaters, I couldn't get into it due to the pile of mushrooms it claimed to have. Instead, I opted for the Blackened Burger, which had some Cajun-style spices and was topped with blue cheese. It came with lettuce, tomato and onion on the side to add to the burger, but I told the waitress that they didn't need to waste those veggies on me. On the side I had a choice of a couple salads, cole slaw and fries and went with the obvious choice of salad. Err…I mean fries.
It turned out that the Blackened Burger was a great choice. Not only were the spices perfect, the burger was juicy and cooked to a nice medium-well. It had just the right amount of blue cheese to keep balance with the spices and the roll-like bun did a fantastic job of keeping it all together.
The fries were also great, being crispy on the outside and soft on the inside.
Brisam's is definitely a place I would recommend for visitors to Cave Creek. The Blackened Burger is definitely a winner and I certainly could eat a few more of those.