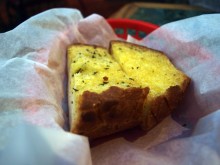 Passing through Palm Desert on the way to Phoenix, I opted to stop at a real restaurant rather than any of the fast food chains that are sprinkled along Interstate 10. The real restaurant of choice ended up being Mario's Italian Kitchen, a neighborhoody place with an extensive menu and load of different specials for just about every day of the week.
I opted for the Baked Mostaccioli, which came with a "lighter" version that worked for me since I had been snacking all afternoon. The dish basically consisted of penne pasta and a sauce with sausage, beef, basil, garlic and a bunch of cheeses. Oh, also marinara. It came with a slice of garlic bread too, which was a nice, buttery way to begin the meal.
The mostaccioli itself ended up being overly saucy and I found myself not only digging for penne, but for sausage and beef as well. In other words, the pasta wasn't anything special, but I have to say I loved our waitress. From the moment we arrived she was incredibly friendly, and not in an annoying bubbly way. When my fiancee said she couldn't drink anything because we had a long drive ahead and she would have to pee, the waitress brought over an ice cube just so she would have something to work with while I drank my water.
Mario's is definitely a place I could see locals returning to for the company and when they are too lazy to cook their own Italian dinner. Unfortunately, I'm not sure many people would come back just for the food.