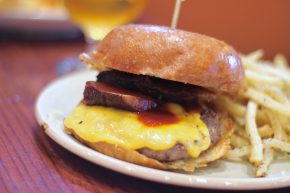 Is there anything better in the world for two brothers to do than to build a brewery? Well, that's what one pair of brothers thought (allegedly) when they put together Two Brothers Brewery, a microbrewery with locations mostly around the Chicago area, but also one in Scottsdale because Chicago places seem to feel welcome here.
There was plenty of beer to choose from, and, like all good breweries, there was a menu flush with burgers, pizzas and for some reason even a schwarma plate. I focused on the burgers, as I tend to do in such places, and found the Pork Belly BBQ Burger to be up my alley. It consisted of a Niman Ranch patty, fried pork belly, house BBQ sauce and cheddar cheese. No more, no less. And I chose the truffle parmesan fries for my side because that's how I roll.
When the burger arrived, it delivered on the ingredients, but felt like it had been hastily cobbled together. Not like in a cool, artisan way, but in a way that implied a degree of nonchalance. Did it taste good? Sure. I mean, it's really hard to mess up this combination and the only thing missing was a little more BBQ sauce to keep things moist because the pork belly was fried pretty hard. Plus, the fries were pretty killer.
My overwhelming feeling as I polished off this burger was that it had done just enough. No more. No less. That's really just fine when you're going out for drinks and need something to eat. But when you're going out to eat, and just want to have a drink with that meal it can be a bit underwhelming. But, since Two Brothers is a brewery first and foremost, I think I know what they had in mind.