EDIT: This location is gone, but you can find Freebirds elsewhere, man.
Beginning in Santa Barbara back in the day, Freebirds World Burrito has recently been expanding all over the place. With a hippe/biker vibe (no, I have no idea how that came to be), Freebirds has taken Henry Ford's assembly line to burritos, but offers more colors than just black. In fact, the options are kind of mind blowing. Multiple tortilla, meat, rice and bean choices, as well as a plethora of salsas and other add-ins.
To be perfectly clear, I am a man who loves choices. But, you gotta do them well. You can't just cobble things together without putting the same amount of care into each choice. Unfortunately, I have often found that restaurants that try to do too much end up doing too little and I hoped Freebirds would be different.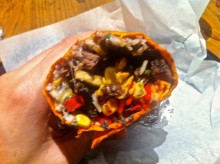 I started out with a Cayenne Tortilla, then had it filled with Cilantro Lime Rice, Pinto and Black Beans, Grass-Fed Steak, Cheese, Tortilla Strips, Corn Salsa and a bit of Habanero Salsa. They were out of Hot Tomatillo Sauce, which is what I really wanted, but fortunately they had some in a pump next to the napkins and stuff.
The verdict was just as I had feared. Or at least something like it. I liked the options and the flavors were pretty nice, but ultimately the burrito was kind of dry. This had a twofold effect. First, I needed to load salsa into it to keep it moist, and second, the ingredients never really mixed together to create a holistic flavor. I'm not sure where to pinpoint this dryness, but I do know that the tortilla strips can't be blamed because they were very minimal.
Yet, this dryness doesn't mean the burrito was altogether bad. The individual flavors were good, but they just didn't seem to play well together. And isn't playing well together the prime goal of a hippie-inspired burrito place?