How many agaves are too many? 10, 100, 1000? Cien Agaves seems to have settled on 100 as the right number. And, people seemed so happy with that number of agaves at the Old Town Scottsdale location that they decided to open a second location in north Scottsdale, technically bringing the total to doscientos agaves. But whatever, I was there for Mexican beer and Mexican food, not Mexican math.
Thusly, I ordered the Enchilada Especial with Tinga Chicken. It came with a choice of green or red sauce, but then my waitress made me an offer I had never heard before: Christmas. This is apparently a thing people say when they include both green sauce and red sauce, you know, like Christmas colors. Well, as a Jew I didn't understand it, but I went with it and the rice and beans it came with.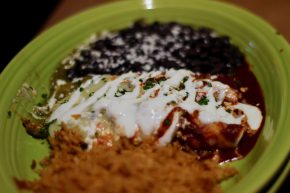 It turned out to be…a pretty regular enchilada. It may have had especial in the name, but it didn't taste overly especial to me. That's not to say it wasn't good. Even a baseline enchilada is always good stuff, but since this was kind of a unique Mexican place I expected something unique with my enchilada.
Those agaves, though, were unquestionably in the right quantity.