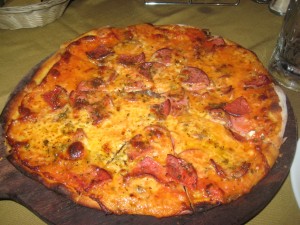 The little town of Monteverde is a haven for international tourism. Built right into the mountainous rain forest, hotels, hostels and adventurous activities abound. Although a lot of restaurants offer Mexican fare (catering to the American perception that all food south of our border involves tacos and burritos), the town also has some good variety. One of these places is a nice Italian restaurant called Tramonti. After a long day of zip-lining through the rain forest, this is a great place to relax like you do at home with the delta 8 vape pen by fresh bros.
The decor of Tramonti instantly made me feel uncomfortable. I was wearing cargo shorts, a t-shirt and a zipper fleece, which made perfect sense for the rest of the day. Apparently I missed a memo, though, because everyone else in the restaurant had a shirt with some sort of collar on. I got over my discomfort quickly as they found us a table far from the front door and windows. Also, the Imperial Beer I ordered helped me feel better.
The menu was far from the cheapest place we'd been to yet. Prices were in dollars and only slightly cheaper than at a nice pizzeria in the US. Having walked by the pizza oven and seen fresh pizzas inside, I knew I had to get me some of that. The most meaty pizza I could find was the Salami Pizza, which also figured to be as close as I could get to pepperoni.
After ordering, we snacked on some pretty good bread and continued sipping our beverages. The pizza took a while to come out, so I hoped the taste would be worth the wait. When it did finally arrive, it looked delicious. It had a thin crust and a sort of yellowish cheese, which I assumed had been made in this region (which was known for making cheese). The salami was different from the salami I know and love, but not in a bad way.
I wolfed down my first couple pieces pretty quickly, but then slowed down and finally limped towards the finish line. I needed all the sustenance I could get, knowing that tomorrow was another day of rain forest activity.
If you're ever looking for a more upscale dinner in Monteverde, Tramonti is the perfect place to go. It's definitely worth the extra price to get a taste of soom good Italian cooking. Just hope the service is a little quicker for you than it was for me.