The final true meal in Costa Rica (without counting the continental breakfast where a scorpion fell from the ceiling onto my girlfriend) was at another restaurant in Monteverde called La Bohemia. This restaurant was another pretty fancy one and felt good after a long day of walking on bridges in the rain forest.
To start off the meal, we ordered some nachos. When they came, they were like no nachos I had ever seen before. They were large, round chips, with beans, cheese meat, tomatoes, jalapenos and sour cream stacked on top. I suppose they would've been a lot cleaner than regular nachos if I didn't have to wipe the tomatoes off of them before eating. After the wiping, though, the chips were really good.
For my main course, I ordered the breaded and fried chicken. It sounded a lot like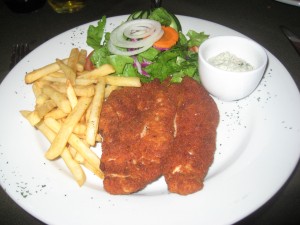 chicken fingers, which frightened me a bit (not because I don't like chicken fingers, just because I didn't want chicken fingers to be my last meal in Costa Rica), but luckily when it came out, the breading was more like chicken schnitzel. And it was delicious. The breading was nice and crispy while the chicken inside was juicy and tender. La Bohemia is definitely worth a stop for a good meal in tiny tiny Monteverde.