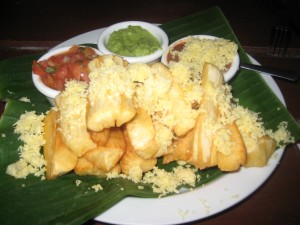 Today is day one of Costa Rican food week, featuring highlights of my recent trip to Costa Rica. While traveling, I don't really order my food without vegetables and just cross my fingers that my meal won't require too much picking out. For this reason, I only rate the overall experience. Enjoy!
My first stop in Costa Rica was the tiny little town of La Fortuna, the closest town to the Arenal Volcano. Despite its small size, it still had plenty of restaurants to choose from and they all had English menus for the tourists. For our first dinner, we went to a fun-looking restaurant called La Choza de Laurel.
Eager to try some fancy new Costa Rican food, I ordered an Imperial Beer and we started off with some Fried Yuca. Yuca is similar to potato, so fried yuca was similar to french fries. There were a few differences, though, in that fried yuca is much heavier and drier than fries. This was no problem though, as the yuca came with delicious salsa, guacamole and beans. These dipping juices wouldn't be appropriate for regular french fries, but they were perfect for fried yuca.
For my main course, I ordered the Choza Tipical Plate. It's always disappointing to eat in a foreign country and find that everything on the English menu is spelled right. Luckily, this was no such place. The description of the Choza Tipical Plate read like this:
Rice, beans, mixed chayote and sweet corn, mixed green papaya and ground beef, salad, chicken, beef or pork shop, sweet plantain and boiled egg.
Based on this, I couldn't really figure out what was optional and was was included. When the waiter came, he asked if I wanted to chicken, beef or pork. I decided against the "pork shop" or beef, and chose chicken.
When my plate came, it was quite a beauty. I learned quickly that chayote is a sort
of yellowish fruit and that green papaya is not nearly as delicious as regular papaya, yet still interesting. The chicken was great, especially when eaten with a mouthful of half the other things on my plate. I avoided the salad for maximum enjoyment.
For my first meal in Costa Rica, La Choza de Laurel was a great decision. The "Tipical" was a good foray into the world of Costa Rican food and I would highly recommend giving the place a visit if you ever find yourself in La Fortuna. Oh, and the prices were deliciously cheap.