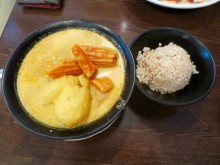 What do you call a restaurant called Abricott? Do you pronounce it like apricot? Do you slow it down and enunciate everything? Or do you just refer to it as "that Asian place down on Lake"? I prefer the latter option, because at the end of the day that's really what it is. Abricott is loaded with a variety of different Asian offerings, like Korean, Chinese, Thai, and all that jazz. On this day, though, it was the Thai that struck me.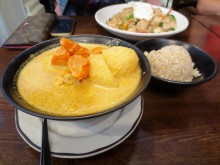 I ordered the Yellow Curry with Chicken, which is house-made (although I kind of assume that anywhere), with potatoes and carrots. I let the carrots slide, because, well, carrots are probably the least bad of the veggie world. I also picked brown rice for my side. Now, I'm usually the type that completely hates restaurants that try to do too much because they typically fail at one if not every thing. Fortunately, Abricott was not this type of place. Everyone loved their meal and none moreso than me.
The curry was perfectly spiced with a healthy kick of heat, while the potatoes were perfectly soft and chicken had the chewy yet tender texture that you always hope for in a curry. It also definitely lived up to its billing of being yellow.
Moreover, it's well-priced for Pasadena, with nearly every dish on the menu coming in under 10 bucks (at least at lunch). Being walking distance from my office, it will unquestionably be a regular destination.