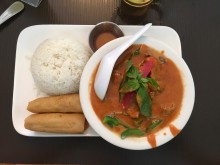 Just off the main drag of South Lake in Pasadena is a little Thai spot that goes by the name Nine and Nine. What the name means is lost to me, but what wasn't lost to me was their lunch specials for $7.50, which captivated me as I browsed the menu. Like most Thai places, the lunch specials menu was a small fraction of the whole, but it had curry and that's all a guy like me could ask for.
I ordered the Beef Panang, which was described as a mix of coconut milk, red curry and peanut sauce. https://petitsecret.ch. As part of the lunch special it came with two egg rolls and steamed rice. Thus, I had no idea it would also come with bell peppers until it arrived in front of me. These weren't the most difficult veggies to avoid, but that doesn't mean they weren't a disappointment.
The curry, however, was not a disappointment at all. It's been a while since I plunged into panang, and I found Nine and Nine's version more spicy than your average Thai curry, but in a good way. Like in a way that it brought out the flavor of the peanuts, coconut and beef without drawing more than a bead of sweat. It was a little more viscous than typical red curry, but hey that's what the rice is for.
Nine and Nine is really great spot for some Thai food. And while their lunch menu is somewhat brief, the main deal is massive and just waiting for me to order for dinner.