When you need to get away from it all (say from a 3 month old child and the busy streets of LA), Cliff's Edge in Silverlake is actually a pretty good way to do it. You see, just off of busy Sunset Blvd, Cliff's Edge feels like it might as well be Middle Earth. There's a real tree growing right in the middle of the place and the whole place really does feel like an earthly Lothlorien. There was no Lembas bread to eat, but there was plenty to be found.
For starters, we had their Roasted Peach, which was literally a roasted peach, but much more. Like burratta, fennel honey, huckleberry and dandelion greens. I'm not sure about those greens, but everything else combined to make quite the tasty appetizer. I especially liked the combination of berry and cheese, which is always a win.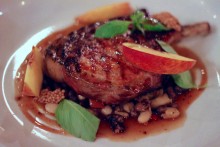 My main course was the Pork Chop, which I chose for little reason other than the fact that it was free of veggies. There were shelling beans, some peaches, some piquillo sofrito, calabrian chiles and smoked pork jus to go with the chop, but the chop really took center stage. For one, it was huge. For two, it dwarfed everything in its incredible taste. Typically pork just tastes like a better version of chicken, but this tasted like steak. Super lean steak, but steak nonetheless and that is pretty much the best compliment you can give to anything or anyone.
Just as we started the meal, we finished it with cheese. Who needs stupid sweet desserts? We let the chef choose, and while I cannot and should not be expected to remember the three cheeses we received (one was creamy, another yellow-y and the last blue-y, they were each distinct and delightful. Also delightful was the strawberry puree they were served with that added a tart punch to the cheese.
Cliff's Edge was a great escape, and most importantly they know how to make pork chops taste like steak. Steak!