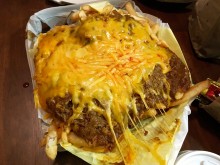 The Hat is one of those local LA fast food spots that has been around forever and seems to be in no rush to change. It has "World Famous Pastrami," but is not limited to just one meat, because the place also serves burgers, roast beef dip and crazy big portions of sides. I mean crazy. Just look at that order of chili cheese fries on the left and try to comprehend how small the individual fries look.
But while the chili cheese fries were great, I decided to make their Pastrami Burger my meal, combining cured beef with grilled beef. Knowing there would likely be veggies, I pre-empted by saying I wanted the burger plain aside from the pastrami and cheese. I snagged a bunch of their awesome variety of condiments for myself and fellow eaters, but ended up sticking to the horsey sauce. The result was a really tasty fast food burger. Moreover, the pastrami was piled way high and really quite tasty. It easily beat out the pastrami burger from the Arctic Circle in Utah, making up for the lack of fry sauce with probably the world's best condiment options.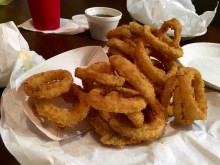 To be clear, though, this was undoubtedly a fast food burger. Despite The Hat's claims to be a casual place, the food does not fall into the fast casual bucket and seems to embrace that fact. It's a real throwback place to a simpler time in which communists were taking over the world and this was undoubtedly the first of many visits to a this beautiful capitalist enterprise.