Over in Palms, a relatively new Thai place called Moo Moo threw its hat into the ring of Westside Thai restaurants. The place has a decidedly authentic flair inside despite the brightly colored lettering on its sign. In this case, I mean authentic in that it has the ambiance of a little corner Mexican restaurant with hastily cobbled seating arrangements.
The menu was pretty typical of most Thai places, but with an emphasis on noodles. I like me some noodles, but this night I was thinking curry. Yellow Curry with Chicken, that is. Although I knew it came with carrots, I allowed those to come through because I knew they were easy to pick out. Each dish came with a spice option of 1-5. I considered the 3, but was told that would devastate me. Instead I went for the 2 and figured I could add more if necessary. I also ordered a side of steamed brown rice to join my curry.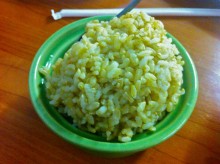 The spice level and the rice were the two smartest things I did for this meal. For starters, the spice level of 2 was just perfect. It made minor beads of sweat form on my brow, but nothing too destructive. I might have been able to hand 3, but it would have been a battle. Also, this was some of the wettest curry I had ever encountered and the rice was essential to add some depth and thickness to it. The flavor was spot on, with a fair amount of chicken and potatoes. As I had suspected, the carrots were a non-issue and I found myself happy with my purchase.
The curry itself didn't blow me away because of how soupy it was, but Moo Moo Thai Cafe was definitely a place worth visiting. Perhaps it is more authentic than other yellow curries I have had and I could certainly get used to it, but I think at the end of the day I would prefer curry with more cushion for the pushin'.